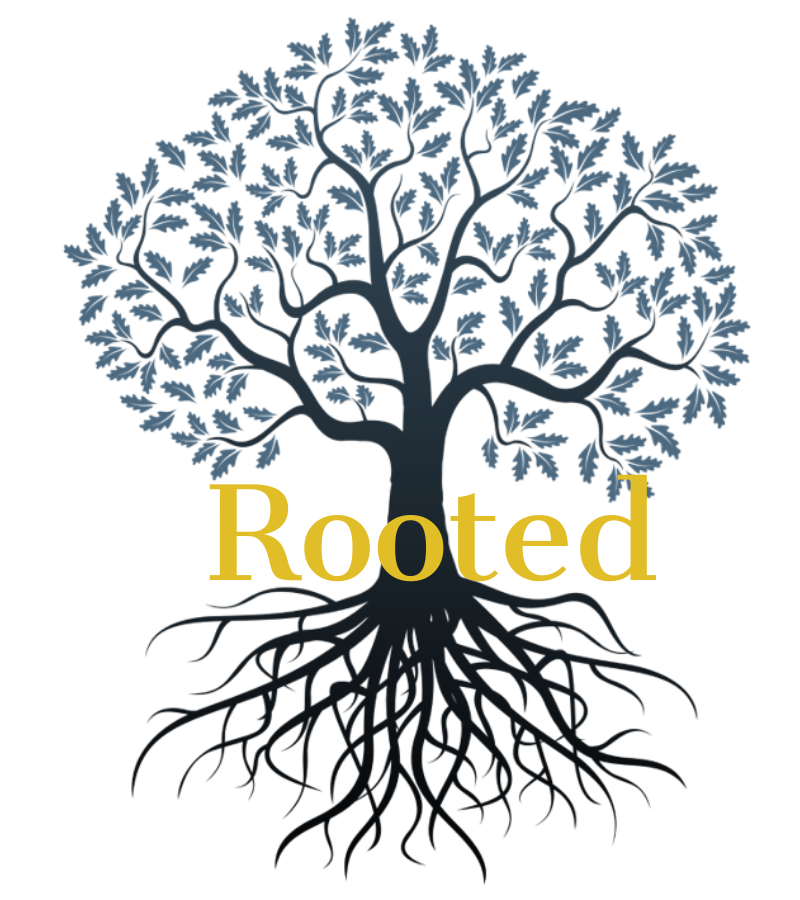 Rooted Sermon Series and At the Plate Class
Worship with us this May through August as we dig deeper into who and what we are "Rooted" in!
From Jesus' "Parable of the Sower" to his bold declaration of "I AM the Vine… Abide with Me" we are reminded of the essential role roots play in our faith. Without good roots, we are unable to gain the nutrients needed to build a healthy trunk, sprout healthy branches, or produce ripe fruit. What we are rooted in and how well we are rooted in reveals a great deal of who we are, not only individually, but together as God's church. We are called to be "Rooted" in the power of God, relationships, love, joy, grace, peace, generosity, worship, and faith, to name a few.
At the Plate Spiritual Growth Class
Ephesians 3:16-19
"I pray that… Christ may dwell in your hearts through faith, as you are being rooted and grounded in love. I pray that you may have the power to comprehend, with all the saints, what is the breadth and length and height and depth, and to know the love of Christ that surpasses knowledge, so that you may be filled with all the fullness of God."
This is Paul's prayer for the people of Ephesus and this is our same prayer for our community of faith.
"That's Awesome!"
Spirit-Filled Joy • Life-Changing Experience • Loving • Laughter • Life-Giving • Uplifting • Heart-Warming • Let it Be
Those are words used by retreat participants to describe their retreat experience in 3 words or less. This March retreat weekend was FILLED with joy, laughter, relationship-building and relationship strengthening, and pure rest. Pastor, published author, and mother of three MaryAnn McKibben Dana led us through four workshops plus a morning of worship. In each workshop, we laughed, we shared, we cried, and we were real about our trials and successes with Sabbath. Our retreat was hosted at Massanetta Springs Camp and Conference Center in Harrisonburg, Virginia. Many thanks to Joe and Elinor Ann Clark for their gift to help make this opportunity possible.
We celebrate a GREAT retreat weekend at Massanetta Springs Conference Center!
Clark Spiritual Growth Initiative
In 2018, in loving gratitude for the way First Presbyterian has encouraged their family, Joe and Elinor Ann Clark, established the Clark Spiritual Growth Fund with the purpose of promoting unique congregational, spiritual, and family growth opportunities by providing insightful and meaningful educational experiences. Thus, the Clark Spiritual Growth Initiative was born! The initiative rotates on a three year cycle of diverse spiritual growth opportunities.
Workshop hosted at FPC

Family retreat
Youth Retreat
For our first series, we have chosen the topic of Sabbath. In 2019, we hosted a Sabbath workshop at FPCLY featuring the Rev. Carrie Rhoads Tuttle from North Carolina. We had a weekend of worship, small group discussion groups, and whole group lessons educating and encouraging the practice of Sabbath. 2020 featured our first weekend retreat to Massenetta Springs Camp and Conference Center in Harrisonburg, Virginia. Our retreat was led by MaryAnn McKibben Dana--a mother of three, Presbyterian pastor, life coach, and author of a best selling book "Sabbath in the Suburbs" which chronicles her family's experiment with focusing on Sabbath for an entire year! Our 2021, youth retreat details have yet to be determined, but should be communicated soon!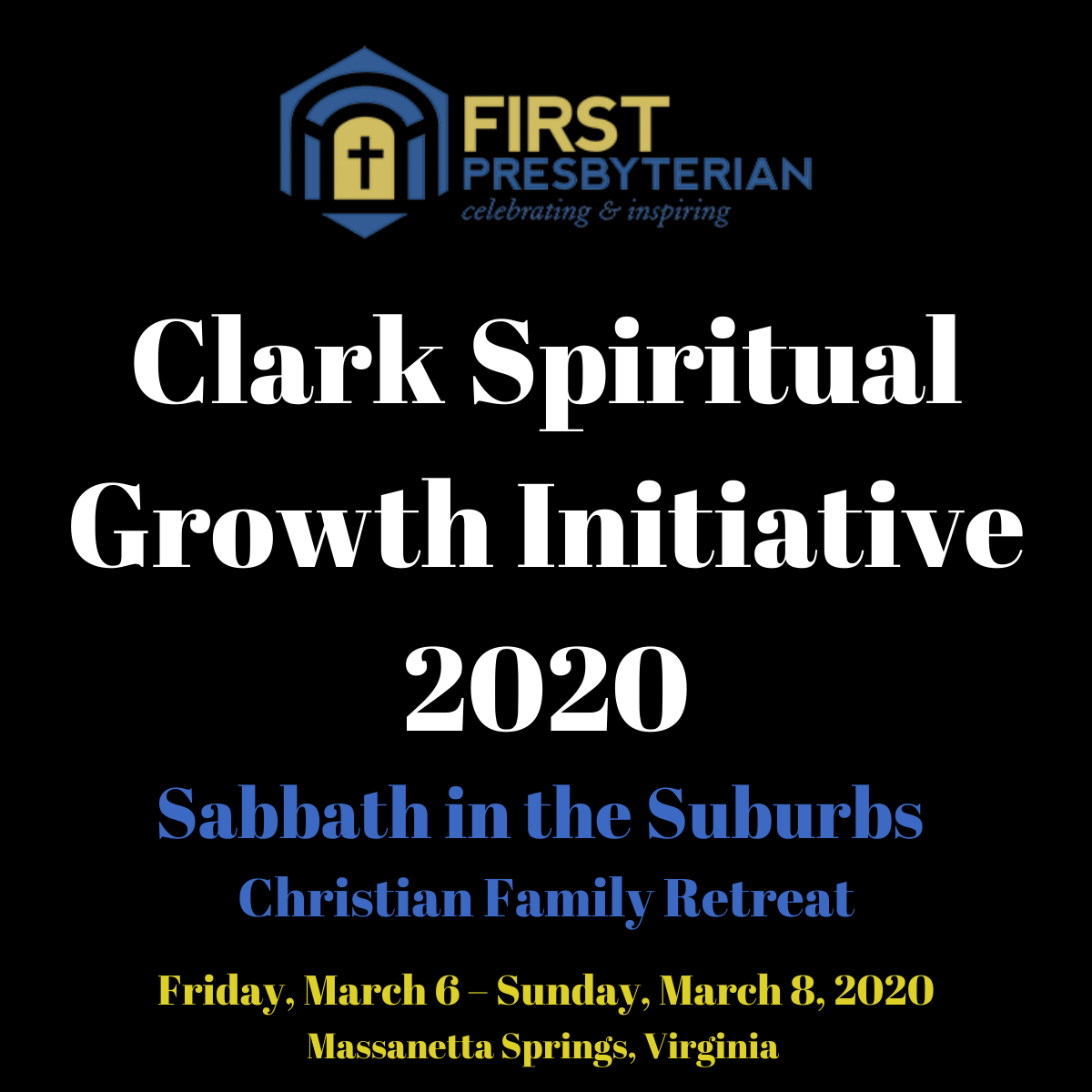 IMMERSE DEVOTIONAL
"Immerse" is a devotional series developed by Pastor Peter Thompson as a part of his Doctoral Research Class and final program project. The devotional is a 12 part series designed as an alternative form of worship when the ability to be present at church has been impacted due to stay at home orders, a weekend soccer tournament, weekend theater competition, or other activity. Each part of the series can be completed in one setting or it can be broken down over the course of a couple of days.
Our Spiritual Growth Committee honors the mission statement of "celebrating God's grace and inspiring the next generation for Christ" and works together, meeting monthly to ensure our opportunities, events, and goals align truly to "celebrate" and "inspire."
To find out more about Spiritual Growth opportunities at FPCLY or to get involved in teaching, planning, or implementing, please contact Kathleen Lifsey (Director of Children's and Youth Ministries) or Erik Koroneos (Chair '20). Other committee members include Jamie Moss, Laurie Sommardahl, Catherine Adams, Noёl Thomas, Beth Williams, Bianca Childress, and Peter Thompson.