First Pres Presents its next musical offering of the 2023-2024 year,
Three Notch'd Road: The Virginia Baroque Ensemble
Thursday, September 28 @ 7:30pm
FPCLY Sanctuary

in partnership with Forte Chamber Music
The First Pres Presents Fine Arts Series is partnering with Forte Chamber Music for its second concert of the series. This concert, held on Thursday, September 28 at 7:30pm, will feature Three Notch'd Road: The Virginia Baroque Ensemble. This dynamic ensemble, named for a colonial route through central Virginia, specializes in the performance of historical, Baroque era repertoires from both sides of the Atlantic. We are excited to host this group for the very first time!
This is a ticketed concert. Tickets can be purchased at the door or ahead of time using the button below.
$35 for adults
free for students
Music at First Presbyterian
Music has been a fundamental part of Christian worship since the first church communities were established. Its contribution to worship inspires our spirituality and sets a proper tone of joy and reverence within each worshiper. The mission of the music program at FPCLY is to praise God through a wide variety of musical opportunities available to all who wish to participate.
We have singing and bell ringing programs for adults and children. Both of which continue to contribute to First Presbyterian's rich history of choral and bell ensembles.
The music program at First Presbyterian Church is a vibrant and growing ministry that we invite all to participate in regardless of age or level of musical training. To learn more about our music program or to jump right in and sing or ring with us, please contact our Organist and Choir Director, Cory Whittier.
Adult Music Opportunities
Chancel Choir...come sing with us!
The Chancel choir provides weekly music for worship services and presents a number of concerts each year. The Chancel choir includes all adults and youth who love to sing!
The Choir rehearses on Thursday evenings from 7:15-9:00 p.m. and Sunday mornings from 8:45am to 9:10am September through May.
All are welcome to join this active ensemble! No audition is necessary!
Chancel Ringers...come ring with us!
The Chancel Ringers is our bell choir that provides music in worship services throughout the year. Minimal musical experience is required and we will work with you to try to improve your musical abilities! The skill of bell ringing is one anyone interested can achieve and enjoy.
The ringers meet to rehearse on Thursday evenings from 6:30-7:15, September through May.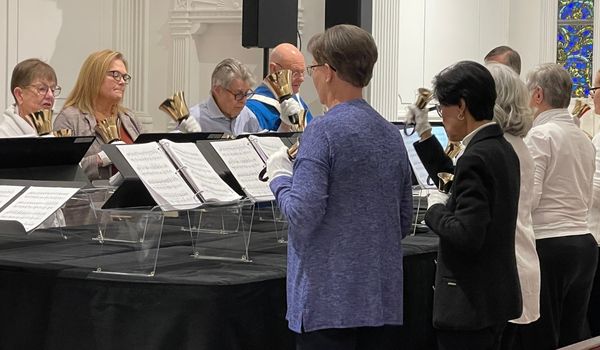 Music Opportunities for Children
We know that music and movement are effective ways for children to grow and learn in all facets of life. We offer our children opportunities to learn songs and motions during our Sunday School classes each week. The kids spend a few weeks learning and practicing songs before sharing their gifts with the faith community at worship!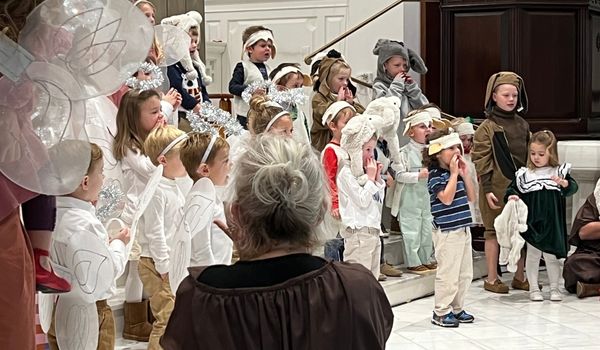 The Sanctuary Organ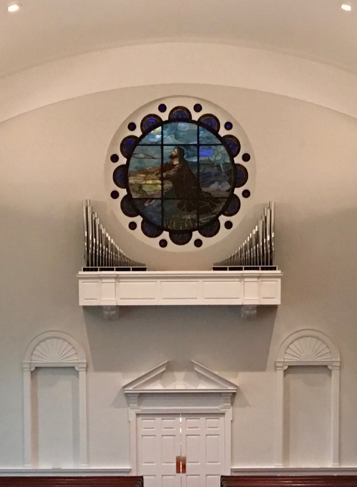 Builder: Möller, 1951, Op. 8303
First Presbyterian is blessed with a large Möller organ that provides substantial support for congregational singing, choral accompaniment and organ concerts. The main organ consists of 2994 pipes and 49 ranks in the chambers located in the front of the Sanctuary, and an Antiphonal organ of 305 pipes and 5 ranks located on the rear wall. Originally constructed in 1951, the organ has gone through several renovations and enlargements, and has grown to be one of the largest pipe organs in Lynchburg. The specification and additional historical information can be found on the Organ Historical Society's database.
Organ Renovation
As part of our Rooted and Reaching Capital Campaign, we are renovating our organ. January 31, 2022, Foley-Baker, Inc from Connecticut began the three-week process of removing every element of the current organ and taking it all to their shop for updating, repairing, and tuning. They will also be redesigning and modernizing the chests and set up in the organ chambers above the Chancel area. We will also have the opportunity to move the console (the part where the organist plays) to the front of the Chancel area! The renovation process will take 12-14 months to complete with the fully updated product set to be in place by August 2023! We are excited about this renovation project and look forward to new and improved sounds moving through the Sanctuary!
Click the button below to read updates about the project!
Psalm 95:1
"O come, let us sing to the Lord; let us make a joyful noise to the rock of our salvation!"